Stock Investing and Trading System
Access the HI-EPSRS database
See a six-month performance of our Top Picks
Stick to a game plan
Learn more about our service
Answers to commonly asked questions
Top Stock Picks Portfolio Comments
2013-05-20: Took a position in Watch List candidate **** this morning.
Current Stock Portfolio Positions: C*** (+9%), AD** (+9%), TA** (+8%), CO** (+5%), RE** (+3%), FL** (+2%), VM** (-0%), CS** (-0%), PC** (-2%),
Testimonials On Our Stock Picks
"I let my membership expire sometime back--being disappointed at the market. However, I like your site the best of all that I have looked at--and that has been many. I will renew shortly. Looking forward to a better market soon-I hope."...JG, Kansas
Stock Investing Affiliate Program
Refer our stock investing services and earn money!
Past Top Stock Pick
Learn from these chart patterns. (Past performance does not guarantee future results)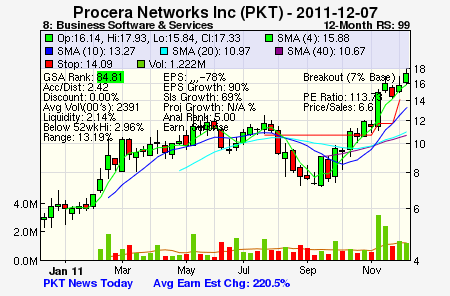 Up 43% from $16.95 (2011-12-06)
On December 6, 2011 we profiled Procera Networks Inc (PKT) as a Top Stock Pick to our members at $16.95. Within a period of six months, PKT rose to a high of $24.2, for a return at it's peak of 43%. Obviously, one cannot sell exactly at the peak, but here is what we had observed about PKT:
GSA Rank: 84.81 (Our proprietary ranking for PKT using fundamental AND technical factors)
Accum/Dist Rank: 2.42 (Up vs. down volume action of PKT taken over several weeks)
Industry Group Rank: 8 (PKT was in an industry showing strong group action)
Most importantly, PKT was trading just 3.0% off it's 52-week high price, and had a breakout from a sideways price consolidation pattern, a clear signal to time our position. It is imperative to not only buy the best stocks that are fundamentally sound, but also to time your purchase correctly.